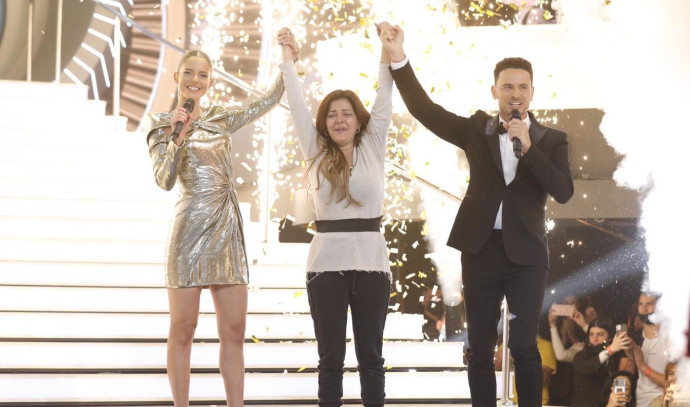 The most surprising surprise final of all the seasons of "Big Brother" took place last night, because everything was predictable and known in advance. It started with an exciting, different and refreshing starting point. It was intriguing to watch the reactions of the surprised tenants, when it was announced that the final was being held right now, and when the finalists left the house to the cheers of the fans and the glittering final – far from glittering themselves, some with pajamas and slippers.
However, the finalists' exit order was so predictable, that it's just exhausting and embarrassing.
Zehava Ben won first place, and there is no doubt about how much she deserves this win and the million shekels she so desperately needs. Not that it will fix her life and make her buy the house she always dreamed of, but also a third of an apartment in the center of the country, which is an optimistic forecast for those who did not believe it would ever happen.
The legendary singer's win actually shatters many myths about Big Brother. Zehava Ben won, and not because she provided the goods that reality demands – she did not cause heated quarrels and did not wage intelligent conflicts, she also did not go through major internal processes and upheavals in the house as tenant Josie Zira went through, or as many tenants claim the upheaval in the house, she Nor did it lead to an important and value-based agenda or express political positions, because Ben came in humble, modest, simple, innocent and sensitive and so she just left the house, the same lady without a change of coat, she was just Zehava Ben and that was enough.
Eyal Golan surprises Zehava Ben in "Big Brother" (Photo courtesy of Network 13)
She was a relatively anemic tenant, not smelling or stinking, sometimes almost absent, always avoiding, sometimes too much, if not for the emotional gestures she received from Big Brother, which filled her tears and moved an entire country, like happy surprises from outside, or long screen time, Ben was already up the stairs at the beginning of the season. But her victory symbolizes innocence, sensitivity, purity, and unending kindness. Ben has proven unequivocally to all tenants in all seasons that they have entered the famous house, and will enter in the future, that you do not have to come up with sophisticated agendas or enter the house loudly to be heard and stand out – humility, modesty and especially egoless simplicity can bring the coveted prize.
So far winning the coveted title – Big Brother winner – has been a hope that belongs only to young tenants aged 20 to 30 and therefore has also drawn mostly young viewers to the genre of this reality show. However, the very victory of Ben has shattered other myths that have accumulated over the years in Big Brother, in which an older person (in her case – at the age of 52) can win Big Brother and the love of the audience at home.
Even the opponent who sat in front of her, was no less deserving of winning, Josie Arena is an example of who has indeed provided the goods, Passed through a winding house, was hated, was loved, erupted and quarreled, cried and moved, closed circles that he could not close for many years with his mother, yes, this is a season that the two finalists deserved to win.
Zehava Ben had no luck in her life, because even though she was considered one of the greatest singers of all time, she got into big debts, and did not realize her success. Ben's victory did not end with her exit last night in the grand final in first place, not even in the million shekels she will rake in her pocket, because now the singer has many options to return to the stage, return to consciousness, cover debts and enjoy the title that made her one of the greatest singers of all time.