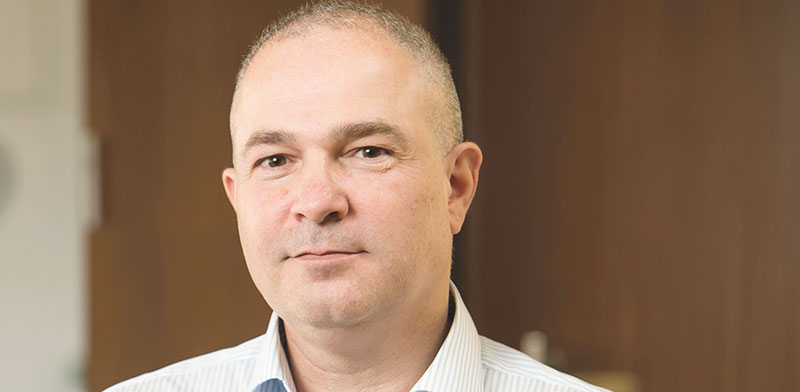 Bezeq did not see it coming – Bezeq CEO Dudu Mizrahi admits in an interview with Globes, a day after the Ministry of Communications hit the company hard in the form of a reduction in its telephony tariffs by tens of percent. flash Lost NIS 1 billion in value on Tuesday this week, following the announcement by the Ministry of Communications.
The concern in the company is only growing in light of the fact that the forthcoming elections and the change of ministers will cause a series of reforms to get stuck and make it even more difficult, in addition to the damage of NIS 400 million that will be deducted from its annual profit as a result of tariff reductions. This is a difficult period for the Bezeq Group, which, among other things, will delete hundreds of millions of shekels in its reports on dual subscribers, as revealed in Globes.
Mizrahi has been well acquainted with the issue of controlling the company's tariffs since the time he began working for Bezeq as an economist 25 years ago. He was very surprised by the timing, even though there was always a claim in the air of excess profitability in the company.
Were you surprised?
"The truth is, very much so."
Wasn't there a prelude to going to handle your telephony rates? sounds strange.
"The issue has been under hearing since 2017 and is part of the recommendations of the Haik Committee. But, the way the issue was handled is extremely surprising. In the past, it was said that when Bezeq's telephony is removed, a customer who wishes can choose one package or another. But, never. "We never imagined that there would be such an extreme move, with such a gross reduction in prices. Certainly not today in the 21st century."
Go back in the time machine to the 90s
But if you come to the conclusion that the tariff should be reduced and supervised – what way remains for the ministry?
"It is impossible to avoid a very difficult feeling, and without referring to the bodies of people, that there is something here that takes us back in time to the 90s machine. Today there is not a single communications company in the world or regulator that uses these tools anymore. It is 90s tools. "All over the world, it is a product that is undergoing very great erosion and is nowhere being monitored. There is no such thing as retail supervision of telephony."
The product may be eroding, but it contributes hundreds of millions of shekels a year to Bezeq's cash flow, and you are still defined as a monopoly.
"The definition is completely anachronistic. It is clear to you that today more than 50% of households do not have a telephone line. It is not that they make contact with the outside world, they do it via mobile so it is clear that the market has changed greatly and today the product has countless substitutes. Such (as a monopoly, GP), that in most households no longer exists, and there are a number of companies that offer it and has substitutes, and mention in the opinion the word monopoly 700 times – it seems like an orchestrated move to create a feeling for someone who reads a completely different picture . It is not for nothing that there is no worldwide supervision of telephony. "
According to the Ministry of Communications, there is a decrease in the use of young people, but still older populations use hundreds of millions for Bezeq, because the ministry has previously set unrealistic tariffs and you are taking advantage of it. Maybe you should have lowered prices on your own initiative?
"I have been in the telecommunications market for 25 years and know it before and after. All economic work must first begin with defining the problem. "Bezeq is one of the lowest in the world, Bezeq is an efficient company and provides universal service at every point, so where is the problem. What is broken here and what do you want to fix."
The ministry has already stated in several reports that due to non-control of tariffs, landline telephony produces excess profitability in billions of shekels. Wanted to fix through competition and it did not work so now fix through supervision. Made a mistake, so now leave the situation intact because someone made a mistake 10 years ago?
"Let me explain the paradox: if Bezeq's telephony prices are among the lowest in the world, how do they generate excess profitability for Bezeq?"
"If there is competition – remove supervision"
After all, your competitors sell telephony at very low prices, you sell much more expensive. You can not say that they are comparable to the prices of competitors.
"The average income for telephony at Bezeq is close to NIS 50. Part of the fact that the rate is high is due to the KSAG rates, because the prices in the packages also include cell phone calls, so at the end of the income it is around NIS 30."
Even when I take a package from the competitors it is still cheaper and it includes thousands of minutes of call.
"So what do you think, if there is competition, then you will remove the supervision, and there will be competition and the customers will choose."
But it did not work, so now does that mean that because they wanted to download and failed then have to stop and live with it?
"Reduced the price by 86%, have you ever seen such a reduction in a product that has a substitute and is in competition, have you ever seen such a thing?
"I would like to address the claim regarding the excess profitability, which is heard over and over again by the Ministry of Communications, and you have also claimed this several times. If you compare the excess profitability of any Bezeq group with another communications group in the world, the profitability is similar or low.
"Unfortunately, Bezeq has a structural separation and separates different activities, and it is true that the linear activity is more profitable, but if you look at the group, our profitability is similar to the world. If you take each group in the world and break it down into activities you will see the same thing. This claim is outrageous and illogical. "No grip on reality. We need to neutralize this sick evil of structural separation and then look and see if there is excess profitability here or not and the answer is no."
Excess profitability refers to landline telephony.
"But if our telephony is one of the cheapest in the world, then it means there is excess profitability everywhere in the world. And there are other activities that lose. But, in the end you have to look at a communications package and with us it does not produce excess profitability and that is misleading."
You claim that there is no excess profitability and that telephony prices are reasonable, but your competitors charge very low prices. Are you arguing that there should have been no interference in this matter or that the ministry should have acted differently?
"I say that intervention in the regulation of retail tariffs, in a market situation where the home phone is in competition and has many other alternatives, to come today and treat it as a product that requires such violent regulatory intervention, there is a very deep failure here. Therefore, our sense of time travel to change The 90s.
"'Costing system' is a tool of monopolies in the 80s and 90s of supervised companies, which used it to mix regulators. "Another way to present it. It's not relevant these days at all."
If they told you to remove supervision, would you lower prices?
"I do not want to get into it because I do not want to be a demagogue. The product is in competition, as you said, and had to be removed from supervision, as promised by the Hayek Committee. The day we were allowed to offer a triple then everything would go into one package. And a total price package could have been offered, everything would have looked different.
"This thing and price controls and structural segregation need to be released, but instead what the ministry chooses to implement is a control model that is irrelevant to our time in the most violent way imaginable, ignoring all the other things that would allow regulation to a more sane market. Something to be proud of. "
What are you going to do?
"We will respond to the hearing and deal with it and hope to convince them of the difficult meanings."
The Ministry of Communications responded: "The ministry issued a hearing aimed at reducing Bezeq's home telephone service tariffs, with the proposed tariff update expected to reduce telephone usage costs and save the public about NIS 400 million a year.
The move is intended to correct an ongoing consumer injustice for many years concerning every home in Israel, which led to excess payments to Bezeq's monopoly, including that there are still more than 2 million subscribers in this service and during the Corona period even the use of this landline for distance learning, distance work And keeping in touch with family members. According to the ministry's estimate, this is an average saving of hundreds of shekels per household per year.
As stated, in Israel there is a monopoly of Bezeq in the field of landline telephony and lack of sufficient competition in the landline telephone service and lack of active and effective wholesale market in the telephony service (unlike many countries), therefore the state sets the tariff. Technological development, the state is committed to updating tariffs accordingly and ensuring that monopoly profit is not unreasonable. The tariff update proposed at the hearing is expected to produce the right balance between the company's costs for providing the service and the subscribers' payments.
The direction chosen for the hearing is a relatively conservative one for estimating Bezeq's telephony costs – since due to the reliance on wholesale market costs, which take into account replacement costs of the passive network, which has already been fully reimbursed several times, Bezeq's revenue cuts are not greater. To harm Bezeq's financial strength. "