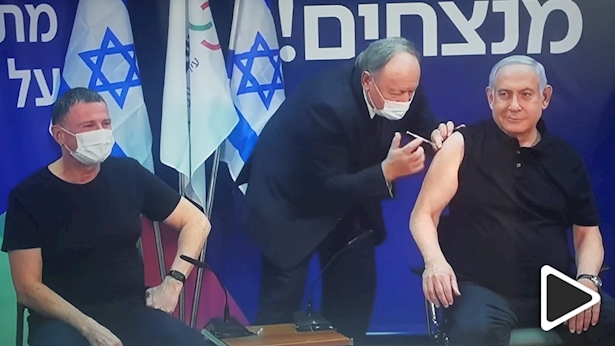 Prime Minister Benjamin Netanyahu and Health Minister Yuli Edelstein tonight (Saturday) became the first vaccinators of the corona virus in Israel, when they received a dose of Pfizer in front of the cameras, to encourage the Israeli public to get vaccinated against the corona virus.
Netanyahu, who was accompanied by his doctor, Dr. Zvi Herman Berkovich and Edelstein, received the vaccine at Sheba Hospital in Tel Hashomer. And praise from those around.
Netanyahu He said before getting vaccinated: "This is a very big day for the State of Israel and we are experiencing for almost a year the worst epidemic that mankind has known in 100 years, we have brought vaccines, we see the end, everyone needs to be vaccinated. Believing in this vaccine, the best scientists in Israel and around the world have undergone it, should set out. "
He added: "I asked to be vaccinated first to set a personal example, on the way here I thought of the children who take care of their parents and grandchildren who want to hug grandparents, we can soon return to routine and watch football and basketball games and relive life, it starts during this and asks everyone to join us." . He then sat down on the chair and resilience.
A small shot per person, a huge step for the health of us all. Go get vaccinated!

– Benjamin Netanyahu (@netanyahu) December 19, 2020
the minister of Health Edelstein He added: "Good evening, the 'Give Shoulder' vaccination campaign is underway tonight, we are setting a personal example for the citizens. I'm sure we are all guarantors, the vaccine is safe, come and get vaccinated. I looked at the date today, December 19, 1984. "My trial in the Soviet Union, today on the same date in 2020, I have the right to be the Minister of Health in the Israeli government and launch an operation that will bring health to the people of Israel. They ask if there are reasons for optimism, then there are reasons for optimism."
Comments on the article(0):
Your response has been received and will be published subject to system policies.
Thanks.

For a new response
Your response was not sent due to a communication problem, please try again.

Return to comment