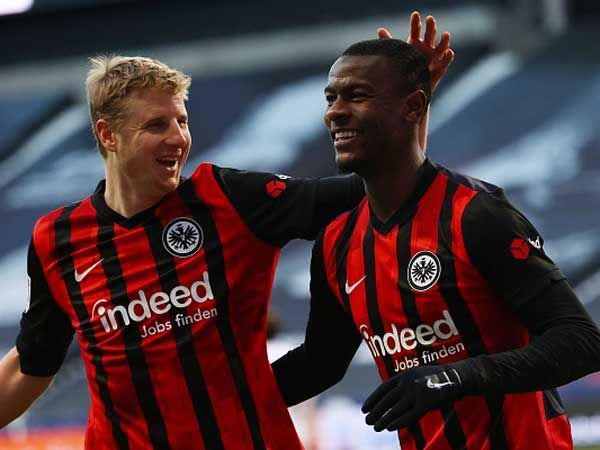 A day before he was locked up when Bayern Munich met Arminia Bielefeld, the 21st round of the Bundesliga continued today (Sunday) with two more games. Eintracht Frankfurt defeated Cologne 0: 2 and climbed to third place in the table over an important Wolfsburg that separated in a disappointing 0: 0 with Mönchengladbach.
Eintracht Frankfurt – Cologne 0: 2
Eddie Hooter had hoped to see his trainees compose a fourth consecutive league win, and they did not disappoint him. After a zeroed first half, Andre Silva, the hottest man from Frankfurt and the second only to Robert Lewandowski in the Bundesliga scorers table, scored his 18th goal of the season in an ingenious chip in the 57th minute. Avit Andika doubled the lead for the Reds when he bounced high above everyone for a corner kick by Philip Kostic and set up the game in the 79th minute. 0: 2 to Frankfurt.
The three points lift Hooter and his players to third place in the table with 39 points, where they exchanged places with Wolfsburg with an inferior goal difference. This coming Saturday Bayern Munich is waiting for them, where Frankfurt will try to do a miracle and get one step closer to the top of the table. Cologne remains in 14th place with 21 points and will meet Stuttgart on Saturday.
0: 0 Disappointing between Wolfsburg and Gladbach (Getty)
Wolfsburg – Borussia Mönchengladbach 0: 0
The Greens expected to increase their winning streak to five, but were stopped in front of Marco Rosa's side. In general, Borussia's head seemed to be in a meeting with Real Madrid in the last 16 of the Champions League in about a week and a half.
Despite a small advantage for the Wolves, Wolfsburg failed to take advantage of its situations and was left with only one point that lowers it to fourth place in the table. The Greens will try to get back on the winning track this coming Friday against Arminia Bielefeld, Gladbach will face Mainz on Saturday.