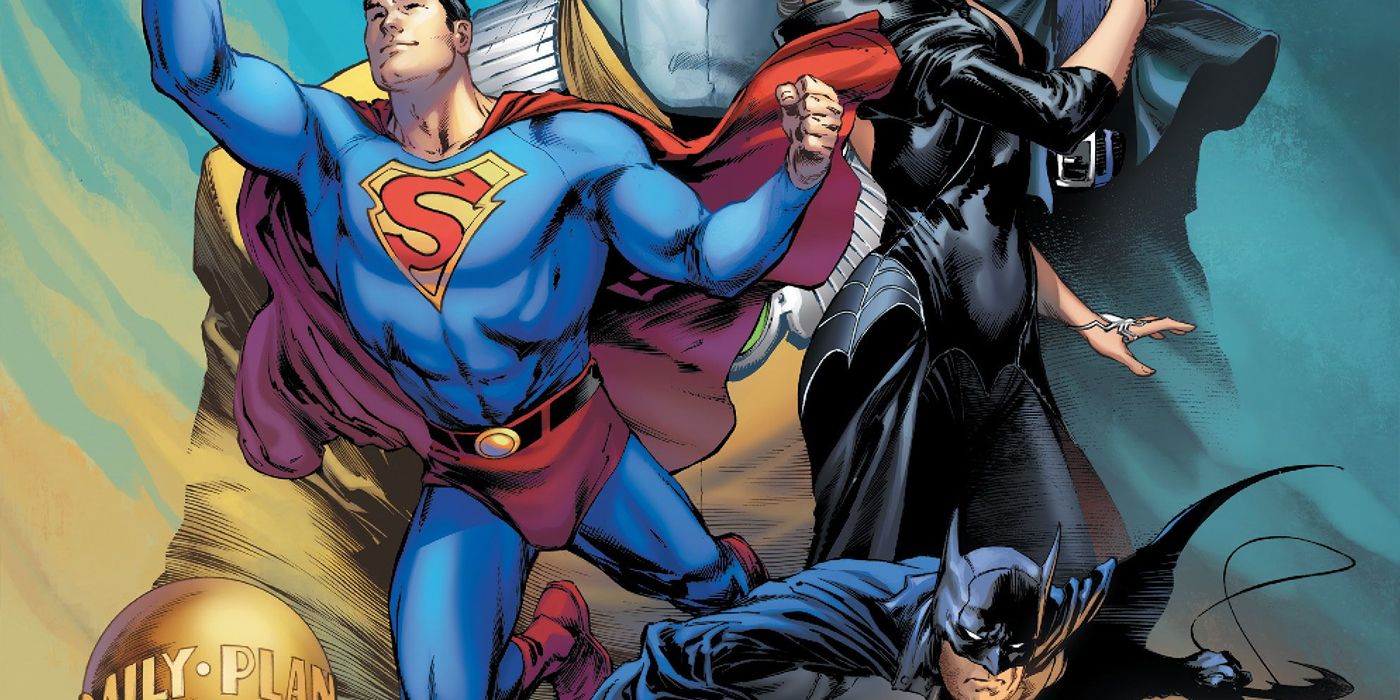 Batman / Superman # 16 features the Finest of the Worlds traveling through various objects and battling a number of new adventures.
As well as a new creative team, Batman / Superman # 16 sees the Finest of the World travel to another world – and fight a new crop of lies in the process.
The official claim for the case reveals the Dark Knight and the Man of Steel intervening with the result from Dark Night: Death Metal, though not Superman and Batman fans. The Superman seen on the cover for Batman / Superman # 16 features costumes drawing back to its first look, while Batman 's black and gray outfits hear back Batman: Year One.
LOVE: Batman and Superman were just proving their 'son' to be 'off' himself
Continue scrolling to keep reading
Click on the button below to quickly start this article.
The cover also features the debut of three new villains. The Spider Lady is a femme fatale with "poisonous webs," while Dr. Atom sports a space-age outfit and a Kryptonite necklace that is a problem for Superman. Going around the trio is the Unknown Wizard, who has a crooked head and shiny red eyes.
Batman / Superman # 16 will feature Gene Luen Yang's new creative team (Shang-Chi, Superman breaks the Klan) and Ivan Reis (Superman). Yang also writes a Batman / Superman story for DC Future State, and will take over the title from former writer Joshua Williamson.
BATMAN / SUPERMAN # 16
written by GENE LUEN YANG
art and cover by IVAN REIS and DANNY MIKI
variable cover by GREG SMALLWOOD
ON SAFE 3/23/21
$ 3.99 US | 32 PAGES | FC | DC
After Dark Night: Death Metal, get a glimpse of a heroic new world within the DC Universe … but what are those weird planets? As we enter the parallel life of Man of Steel and the Dark Knight, we encounter new flowers, new heroes, other laws, and transdimensional beats that you must see to believe! This is the first sad scene of a cast of new lies, including Lady Spider and her poisonous figs, Dr. Atom, who sports the Kryptonite column, and the Maniacal Makers of the Unknown Wizard! You've never seen Batman and Superman like this – so get together and get ready to start a new era courtesy of writer Gene Luen Yang and artist Ivan Reis!
Batman / Superman # 16, which is part of the Infinite end campaign, will be sold on March 23, 2021.
INCLUDED: Batman / Superman DC announces Post-Future State Creative Team
DC marks the infinite time with a new cover treatment
About the Author