After seeing Atletico Madrid beat Elche, Barcelona hoped to record a third consecutive victory tonight (Saturday) and reduce the gap from the Spanish league leaders, but stumbled at the Camp Nou and finished only 2-2 against Valencia, a result that left Ronald Koeman out of the squad To the first quartet. The Bats have already counted five consecutive rounds without a win, after dropping an advantage they held in the first half, and remaining at the bottom of the table.
Valencia, as mentioned, first took the lead when Mukhtar Diakabi took advantage of a slackness in the Catalans 'defense and rose high above them all to a corner kick, to slam in the visitors' 0-1. It was not the most successful evening for Leo Messi, but even in such a game the flea made a personal history. Messi missed Pendel in extra time of the first half, but the rebound went to Jordi Alba and the left-back managed, with the help of an opposing player's foot, to bring it back to the number 10 he scored with a shot and equalized before the break.
In this way, Messi reached 643 goals in the Barcelona uniform and equaled the legendary Pele as the player who scored the most goals in one club. The Brazilian, it will be recalled, did so in a Santos uniform.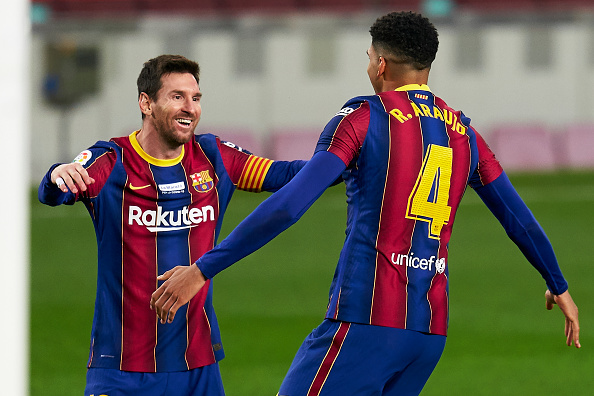 In the 52nd minute, the Blaugrana's turnaround was completed, thanks to a tremendous fly kick by Ronald Araujo. The 21-year-old stopper, not exactly the player we would expect to score such a goal, took control of a wondering ball in the box and flew for a beautiful performance. Unfortunately for the Uruguayan, it was not enough for Barcelona because in the 69th minute, his compatriot Maxi Gomes preceded the host defense for a wide ball from Jose Gaia and scored the 2: 2, which was kept until the final whistle.
On Tuesday, Messi and his teammates will try to recover from the loss of points and return to the winning track, when they will be hosted by Sean Weissman's Valladolid. Valencia, for their part, will return home to the Mestalla Stadium and wait for a challenge no less challenging than the one they met tonight – Sevilla.