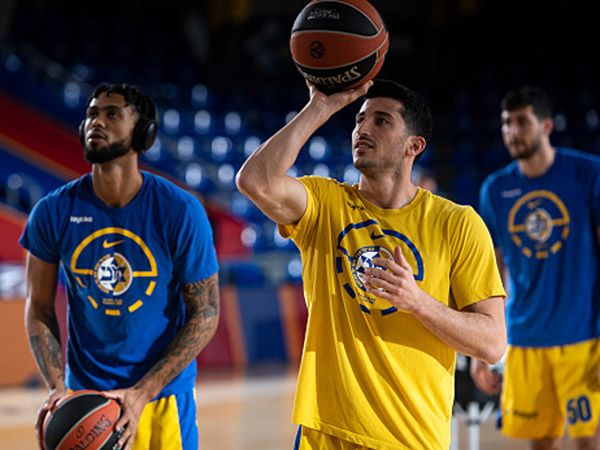 Maccabi Tel Aviv will go up tonight for the game against Barcelona in Palau Blaugrana (22:00, live broadcast on 5 SPORT – Channel 55) when the odds are clearly against it – not only because of the current ability and the clear quality gaps between the two teams, but also in terms of statistics and history. The Yellows have a particularly difficult task ahead of them.
Since the 2017/18 season, Yannis Sapropoulos Stands on a dismal balance of a single win compared to eight losses in the balance between him and the Barça coach Sharonas Jasikevicius. Moreover, 3 years ago Olympiopos of Sapropoulos was even eliminated against Zalgiris Kaunas of Sharas in the quarter-final series despite a home advantage.
"We play against the first-ranked in the Euroleague. Barcelona, ​​especially on their home field, play with great intensity on both sides of the field," the coach recalled. Yannis Sapropoulos. "We have to be focused for 40 minutes and adjust to their speed. We have to stick to the game plan and play smart on both sides of the field."
"In the last game we suffered a painful loss, but we have to put it behind us and prepare for one of the toughest rivals in the Euroleague this season," he stressed. Scotty Wilbkin. "Barcelona is a team with so many weapons. Our job is to stop them and carry out an attack."
He's not going against Sharas. Speropoulos (GETTYIMAGES)
Beyond that, the last time Maccabi Tel Aviv won at Barcelona was in December 2005. Its balance sheet at Palau Blaugrana stands at only two wins compared to 15 losses. In fact, the hall in Barcelona is where Maccabi Tel Aviv has lost the most times in a row, with ten losses in the last 15 years.
One of the hardest tasks of the Yellows will be to try to stop the Kyle Kuric. Barcelona's deadly slingshot, which a few years ago underwent surgery to remove a tumor in its head, is accurate this season by almost 70% imaginary for three, with 27 successful shots out of 39 attempts. This is the highest seasonal shooting percentage in the history of the Euroleague. By the way, in Maccabi's last two visits to Palau Blaugrana, Koric finished one of the quarters with more points than all the Yellows combined: 7: 9 in the fourth quarter last year, 7:10 in the third quarter on 18/19.
And if all this is not enough, a look at the table reveals that already now, after only 14 rounds, Maccabi Tel Aviv recorded the amount of losses it recorded last season, after 28 games. how do you say? good luck with that.
Data courtesy of Uri Savir.
Barcelona waiting for Maccabi (getty)