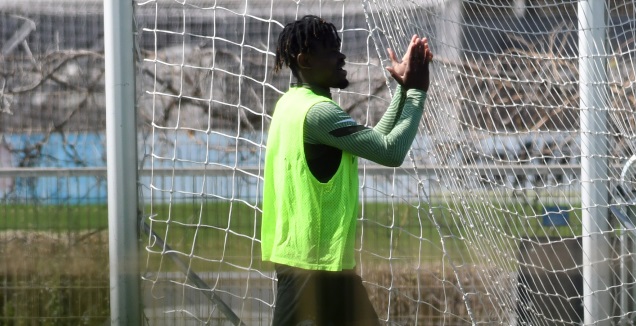 Doron Ben Dor 14/02/2021 08:16
Maccabi Haifa fans who came to the concluding training ahead of Betar Jerusalem tomorrow (Monday) at 20:45 to encourage and support the players after the events of the last derby, plan to attend a hearing in the Football Association's court on Wednesday.
Even before that, Haifa will try to return to the top of the league after seeing Maccabi Tel Aviv beat Hapoel Kfar Saba and overtake it. With the exception of the injured Nikita Rokavica and Yuval Ashkenazi, almost full staff will be available to coach Barak Bachar, including Chiron Sheri, who has recovered from a hamstring injury. Taleb Tawtah is due to receive the MRI results due to tenderness in the back thigh muscle and it is estimated that this is not a serious injury.
Bachar's biggest dilemma regarding the lineup he will open is in the front between one of the three – Cherry, Yannick Wildshot or Goodsway Donio. The place of Noble Omar returning to playing fitness and Dolev Haziza is guaranteed as well as the place of San Menachem. In Haifa, they aim to sit down with Menachem very soon and close with him on a long-term contract for the coming years.
The motto was and remains in the team not to absorb so it seems that Bachar will keep the center field trio that includes Jose Rodriguez, Neta Lavie and Muhammad Abu Fani. Another player who will not yet be on the roster but joins his new-old teammates is Muhammad Awad. The latter returned to Israel last week and may be a significant addition to the front end.