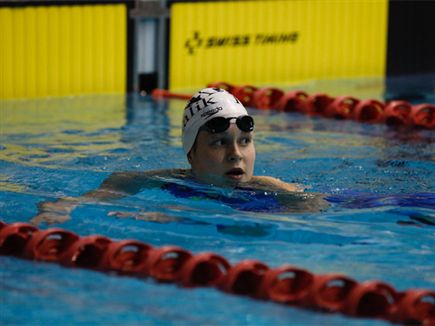 The first final presentation of the Olympic criteria competition was held tonight (Thursday) in the national pool at the Wingate Institute and invited quite a few interesting anointings. In the record segment, it was again Anastasia Gurbanko who topped the table, with a youth record in the 200-meter freestyle, where she set 1: 59.38 minutes. This is an improvement of about a second and a half to its personal record, which was also the previous youth record.
After that, the 17-year-old swimmer recorded another 50-freestyle victory with 25.24, one hundredth above the youth record she set this morning in the qualifiers. Whoever came in second place was Olympic swimmer Zohar Schickler, who set a time of 25.42, her best result since Rio, which also gave her a criterion for the 2021 European Championships in Budapest. In the men's parallel ointment, Miron Heruti won, with a good result of 22.06 s, 64 hundredths ahead of Marcus Schlesinger who came second.
In the men's 200 freestyle we got a real drama, when Gal Cohen Gromi set 1: 48.76 and defeated director Daniel Namir who finished second. For both, these are personal bests, which of course reinforce the potential 4×200 freestyle relay, which has already set the Olympic criterion. Dennis Loktev finished third with 1: 49.04 and Ron Polonsky fourth with 1: 49.51.
Tonight, Bar Soloveitchik approached the Israeli record in the 800 freestyle when he set 8: 01.83 D., who came third, Yuval Safra, set 8: 15.28, thus confirming his participation in the Olympic qualification competition in open water to be held in Fukuoka, Japan. In the women's parallel ointment, Orin Goblan won with 9: 05.92.
In the men's 100 backstroke, two finished together in first place – Yaakov Tomarkin and David Gamburg, who both set a time of 55.27 seconds. In the women's, Aviv Barzali won with 1: 02.31. In the 100 butterfly, Arik Kitschev (55.07) and Mai Levy (1: 00.78) won, and in the 200 breaststroke, Jonathan Rom (2: 15.03) and Keren Eisbruch won (2: 41.20).