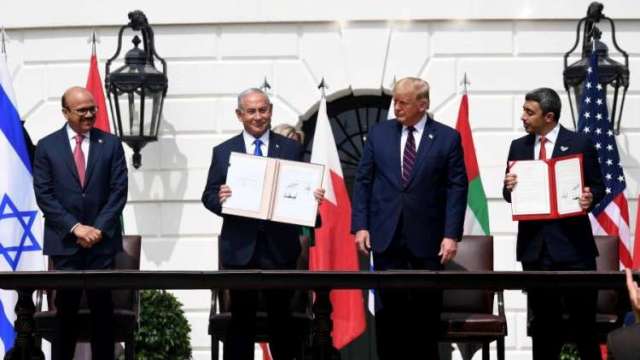 A few days after Morocco announced its agreement to normalize relations with Israel, it was revealed in Israel Today at noon (Tuesday) that a delegation from a large Muslim country that does not have diplomatic ties with Israel visited Israel about two weeks ago.
According to a report by Ariel Kahana and Dean Shmuel Elmas, the delegation was headed by a senior adviser to the Muslim state leader, who was scheduled to meet in Tel Aviv with Israeli representatives. Details of the country in question were banned from publication. The visit took place against the background of the possibility of normalizing relations between the two countries.
It was reported on Tuesday that US Vice President Mike Pence is expected to visit Israel next month, just a week before the end of the Trump administration's term, and that further political developments may be announced as part of the visit. The Minister for Regional Cooperation, Ophir Akunis, estimated that before January 20, the Americans would announce one or two countries that would normalize relations with Israel: "I do not rule out the possibility that during Pence's visit we will hear about another country normalizing relations with Israel." Said in an interview with Gali Tzahal.
As you may recall, last Thursday, President Trump announced another breakthrough in the normalization cycle: "Our two great friends – Israel and the Kingdom of Morocco – have agreed to full diplomatic relations," he wrote on Twitter. Morocco is the fourth Arab country to announce in recent months the normalization of relations with Israel, following the United Arab Emirates, Bahrain and Sudan. As part of the establishment of relations, the two countries will open official missions, first liaison offices and later embassies, as well as operate a direct flight line between them.
As part of the agreement, the US president agreed to recognize Morocco's sovereignty over Western Sahara, a region over which a territorial dispute has erupted for decades between it and the Algeria-backed Polisario Front movement, which demands independence. Morocco occupied the region in 1975 after leaving Spanish rule, annexing it to its territory in 1979. The international community does not recognize its sovereignty over the region.
After Trump's announcement, Prime Minister Benjamin Netanyahu said: "On this Hanukkah holiday we are bringing a very great light to the State of Israel and the citizens of Israel. First the light of vaccines that will bring an end to the plague, and now another great light of peace. I have always believed in this peace, I have always worked for peace. This one, and now it is being realized before our eyes. "
Speaking at the first Hanukkah candle lighting ceremony at the Western Wall with US Ambassador to Israel David Friedman, Netanyahu thanked the US President: "I want to thank you, President Trump, for all the great things you have done for the people of Israel and the State of Israel. We will never forget that. I would like to thank the King of Morocco, King Muhammad VI, for his historic decision to make a historic peace with Israel. "
Netanyahu noted that "there are close ties between Morocco and Israel, between Morocco and the Jewish people there are courageous ties throughout the new period. Everyone knows the warm attitude of the kings of Morocco and the people of Morocco to the Jewish community there. Hundreds of thousands of people immigrated to Israel. "The people of Morocco and the people of Israel. A bridge of love, sympathy, affection and tradition. I must say that this solid foundation is the foundation on which we build this peace."
"We will re-establish liaison offices between Israel and Morocco, and then we will act as quickly as possible to establish full diplomatic peace relations," the prime minister added. "We will also operate a direct airline between Israel and Morocco, it will give extra power to this connection. There will be a very warm peace here. I can say that on Hanukkah we have love and it will win – we have peace, and it is already winning."