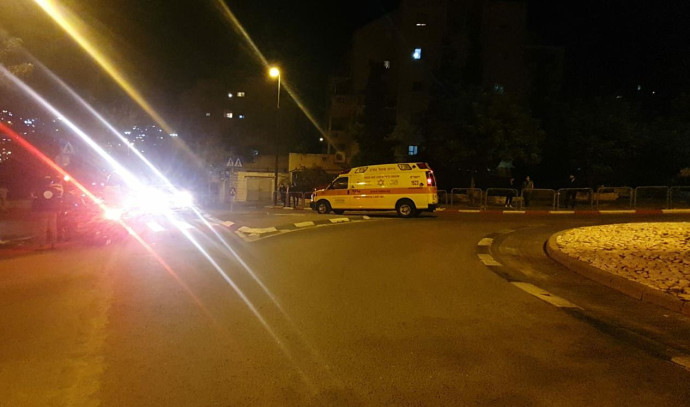 The Jerusalem District Attorney's Office filed an indictment this morning (Thursday) in the city district court against Shlomo Sheinbaum, a resident of Jerusalem, for attempted murder and assaulting a public employee. According to the indictment, filed by attorney Anat Erussi Cohen, on the evening of Friday, 11/27/20, the defendant was at his mother's house in Jerusalem. At the time, his brother, sister-in-law, their three-month-old son and his mother were at the house.
On several occasions during that evening, Sheinbaum stabbed his brother, sister-in-law and mother and wounded them. Following his actions, his sister-in-law suffered a four-centimeter-long incision in the center of the neck with a bare muscle. In the hand, as well as another incision in the left hand three cm long. The three and the baby were treated in the hospital, and his brother needed three days of hospitalization.
Police and MDA forces at the scene of the incident in Jerusalem. Photo: Documentation of MDA operations
In addition to attacking his family members, several hours after he was arrested, at approximately 04:30, the defendant was taken to the detention center in the Russian compound in Jerusalem. During his absorption in the detention facility, the defendant objected to him being searched and began waving his hands at the guards. When the guards tried to stop him, the defendant bit one of the guards in the palm of his right hand. The prosecution requested that his detention be extended until the end of the proceedings.
Police and MDA forces at the scene of the incident in Jerusalem. Photo: Documentation of MDA operations
A day after the incident, which took place in the Beit Hakerem neighborhood of Jerusalem, it was revealed that the attacker was one of the victims who was abused in the cult case of Elior Chen, who was sentenced about 24 years ago to 24 years in prison. Scheinbaum was recently released from a closed institution. Following his arrest, Attorney Ariel Herman, representing him on behalf of the Public Defender's Office, said: "This is a young man who has been subjected to prolonged and unusual abuse in its severity and as a result suffers from severe mental disorders and complex post-trauma. In light of his deteriorating mental condition, he was hospitalized for about a week in a mental hospital and despite his family's request not to release him due to his condition, it was decided to release him. This is a family tragedy, which seems to have been prevented. The court granted our request and the young man was referred for a psychiatric examination. "