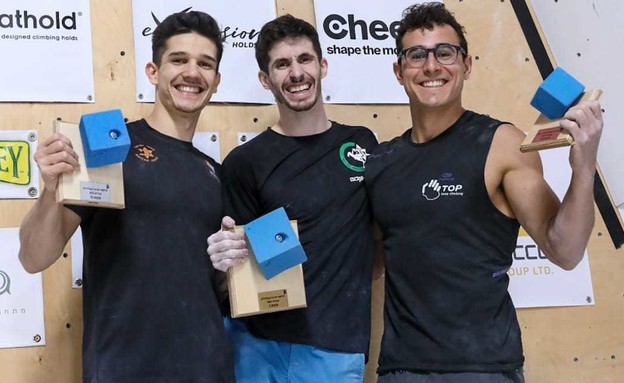 A month after picking up second place in "Ninja Israel 2021" and just before competing in the All-Stars Championship (Monday, Channel 12), the decorated climber won first place in the National Bouldering Championship after providing an amazing display of purpose. Ram Levin finished in second place and Yuval who filled in third and honorable place. In the women's category, Ayala Kerem won, for the second year in a row


Tomer teaches
|











| Posted 19/03/21 13:05 | Updated 19/03/21 13:25

This coming Monday, the first All-Stars Championship of "Ninja Israel" will be launched (Channel 12) and meanwhile its competitors, the good and beloved ninja champions, continue to reap impressive achievements in the competitive climbing industry.
This morning (Friday) the Israeli Bouldering Climbing Championship for 2021 was held on the Monkey Wall in Ashdod. The winners of "Ninja Israel" 2018 and 2021 – Yuval Shmela, his deputy Alex Haznov, the finalist Ram Levin, his brother Geva Levin (conductor of "Ninja Israel Children"), Nimrod Marcus and Yotam Ben Reuven qualified for the finals. In the women's category, two contestants from "Ninja Israel" 2019 competed – Ayala Kerem and Yael Taub, as well as Maya Shemen, Yola Gould, Naama Yochai and Yael Behard.
Alex Haznov won first place in the competition, for which this is the sixth victory in the national bouldering championship after winning between 2015-2018 and last year. Haznov finished three tracks out of four and did so in the flash, that is, on the first attempt – which guaranteed him the victory.
His deputy, Ram Levin, finished two tracks – the second and fourth, when he recently found a smart and creative solution, managed to finish the hardest track of all and won second place. In third place finished Yuval Shamla who completed one track and reached the zone grip in two more. In the women's category, Ayala Kerem won for the second year in a row, dominating the competition from start to finish and finishing all four tracks.
After winning, Haznov said, "I had a very big crisis in motivation because of the corona and the cancellation of international competitions, I was a bit lost in this world – but this year I took matters into my own hands and wanted it very much. I wanted to come with a different approach and enjoy it. A lot of climbing abilities. "
Where do you continue from here? "I want to go back to the World Cup final. Not necessarily to beat him like to do it, and in front of an audience," Haznov said, "all I do is for the 2024 Paris Olympics. After Paris? Maybe a wedding."