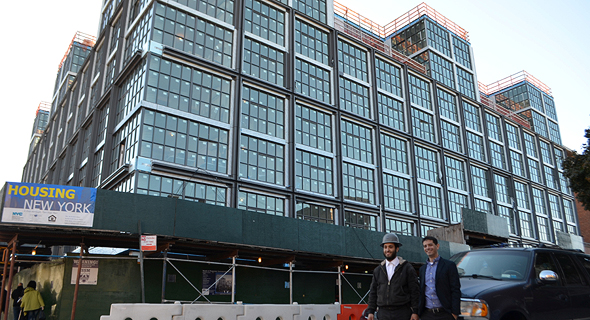 The holders of the bonds of Ul-Yar have chosen the members of the representative office and the legal advisers who will accompany them in the framework of the debt settlement, which amounts to NIS 2.3 billion.

Doron Turgeman, Osnat Tennenbaum and Oded Goldstein were elected as the joint representatives of the bondholders. Turgeman, who also serves as a member of the Starwood and IDB Open Holders' Representation (Series I) And D. Tennenbaum, former head of the special credit division and a member of the management division of Bank Leumi's business division, was selected by the holders of Series C. Goldstein, whose office is active in the real estate field and most recently served as a representative of the bondholders of the Related Company, was chosen by the holders of the Series E.
All-Yer project in Brooklyn New York
Photo: Oren Freund
While all four series will operate through a three-member joint representation, it has been decided that the legal advice will be split into two, one for non-pledged series (Series B, D) and the other for the Promised Series (Series C, E).
The list of law firms that competed to represent the holders of the bonds of Ol-Yar was unusually long and included no less than 15 firms. Ultimately the legal advisors chosen are those who may have experience representing bondholders, but these are not the names that recur in most debt settlements.
The non-guaranteed bond series of Ol-Yar were represented by Adv. Amir Palmer of the firm of Amir Palmer & Co. and Adv. Uri Gaon of the firm of B. Levinbook. The guaranteed series of bonds of Ol-Yar were represented by Adv. Ofer Tzur and Adv. D. Kfir Yadgar of Gornitzky & Co.
Advocate Ofer Tzur commented on the appointment in a conversation with Calcalist and said: "The twilight period in which the company can play has ended. The game season is over. From now on, if the company does not produce true transparency, the company and its owners (Joel Goldman, JR) will have a big problem. "
In a conversation with Tzur, it was alleged that Ol-Yar was not handed over toloyal The information she undertook to provide as part of the Standstill document she signed a few days ago. "The company produces a sense of transparency and in the end does not provide the information. We have an uncomfortable feeling with the fact that the board of directors in Israel also does not know everything about what is happening in properties abroad."
Advocate Tzur, who served as legal counsel to Related's bondholders, compared the two cases, saying that "Related was a company that provided reliable information. We hope that what I say will turn out to be wrong, but that is the feeling and these are the rumors. "