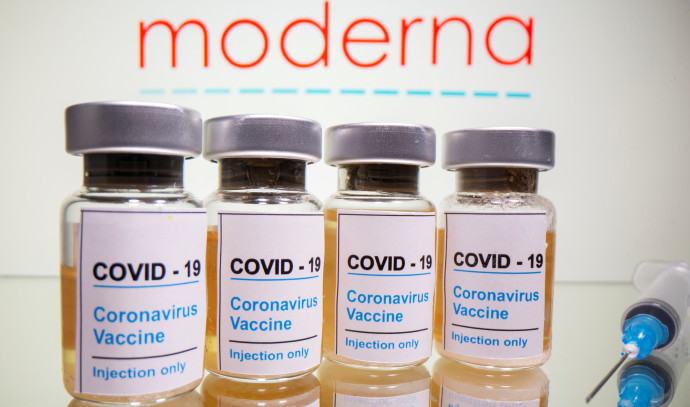 Second approved vaccine: The US Food and Drug Administration, FDA, has decided tonight (Saturday) to vaccinate the modern company Corona. This, after the organization's expert panel, which examined the vaccine, recommended that it be granted an emergency permit. Moderna is the second company after Pfizer to receive a vaccine approval that it has developed and is now expected to begin distributing it.
Modern Corona Vaccine (Credit: Reuters)
The FDA also confirmed previous data released by Modern, according to which the vaccine's success rates stood at 94.1 percent, out of 30,000 who participated in it. It was also found that side effects including fever, headaches and fatigue, were unpleasant but not dangerous.
According to Modern, its vaccine is more effective compared to the development of "Pfizer", and has a longer shelf life. Outgoing US President Donald Trump wrote on his Twitter account: "Moderna's vaccine has been overwhelmingly approved. Start distribution immediately."
Netanyahu announces a tripling of the amount of vaccines that Modern will provide
As you may recall, Israel has a signed agreement with a modern company for the supply of 6 million vaccine doses that will arrive in the State of Israel during 2021 and will be sufficient to vaccinate about three million Israelis.
Prime Minister Benjamin Netanyahu said of the new agreement that "it gives us hope. We see the light at the end of the tunnel. Until then we need to keep the rules. Our task is to bring vaccines, your job is to keep the rules. If we do that, we will go "Forever. Together we will win the corona."
According to the Prime Minister, Health Minister Yuli Edelstein also joined in, saying: "This is great news for the citizens of Israel and the Israeli economy. There will be no citizen who wants to be vaccinated and we will not be able to provide him with the vaccine. Professional teams have started hard work It will take several more months and we must all follow the guidelines and not be complacent. "
Are you afraid of the vaccine for Corona? These are the things you must know Click for details