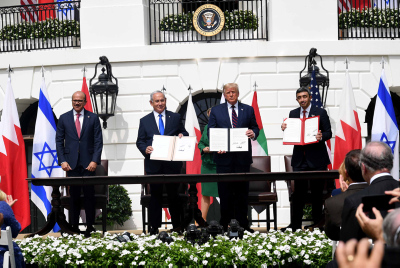 Senior officials from a large Muslim country in Asia with which Israel has no diplomatic ties arrived in Tel Aviv about two weeks ago and met with Israeli representatives. The delegation was headed by a senior adviser to the leader of that country. This was first published today (Tuesday) in "Israel Today".
The background to the visit is the possibility of normalizing relations between the countries, as has happened with other countries in recent months. At this stage, it is forbidden for security and political reasons to publish the name of the country and the details of the representatives who visited the country.
The talks with the Muslim state are part of a series of Arab and Muslim countries that have begun to establish ties with Israel in recent months. The first were the United Arab Emirates and Bahrain, which signed a normalization agreement – the "Abraham Agreements" – with Israel at a White House ceremony in September. Then came the peace agreement between Israel and Sudan.
As you may recall, last week Israel and Morocco announced the normalization of diplomatic relations between them, and agreements for cooperation between the two countries are expected to be signed soon. Last month it was revealed that Prime Minister Netanyahu went on a visit to Saudi Arabia and was there with the regent and powerful man in the kingdom, Muhammad bin Salman. At this stage, Riyadh has not yet decided on establishing full relations with Israel, but there is a compromise in relations such as granting permission for planes of Israeli companies to fly over the country on their way east.
It now remains to be seen whether in the coming month, which is expected to be President Trump's last month in the White House, more countries will decide to establish official relations with the State of Israel, and a new era will open up in the Middle East.