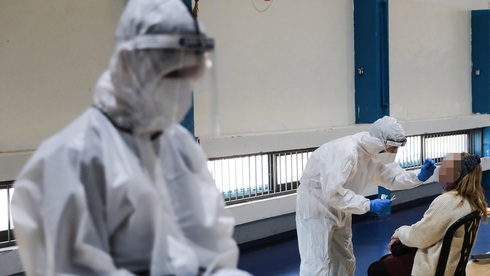 The trend of decreasing coronary heart disease continues: 1,017 Israelis were diagnosed yesterday as positive for the corona virus. A total of 56,000 tests were performed and the positive rate was 1.8%. By comparison, on Friday last week, 2,416 Israelis were diagnosed as positive for the virus.
Today since midnight 194 infections have been diagnosed, but the number of tests on Saturday is very low and so far less than 10,000 tests have been solved today. The coefficient of infection also decreased, and currently stands at 0.62.
Hospitals across the country are hospitalized with 549 corona patients whose condition is severely defined. 199 patients connected to respirators. Since the outbreak of the plague, 6,082 corona patients have died in Israel – ten of them yesterday and one today.
There has also been a decrease in the number of active patients and as of Saturday evening their number is 18,873. In Jerusalem 2,876 active patients, in Tel Aviv-Yafo 867, in Netanya 586, in Be'er Sheva 521, in Ashkelon 443, in Petah Tikva 428, in Ashdod 415, in Haifa 370, in Rahat 367, in Holon 362, in Bnei Brak 283, in Bat Yam 280, in Ramla 278, in Nazareth 272, In Umm al-Fahm 254, Rehovot 249, Lod 244, Hadera 236 and Beit Shemesh 202. Currently there are only five red localities: Lakia, Kuseife, Peki'in, Ibelin and Basmat Tivon.
56.8% of patients with a severe condition are over 60 years old. 18.3% aged 50 to 59 and 12.7% aged 40 to 49. That is, close to a third of the seriously ill patients are aged 40 to 49. In addition, four girls, a boy, two girls and a boy are hospitalized in critical condition.