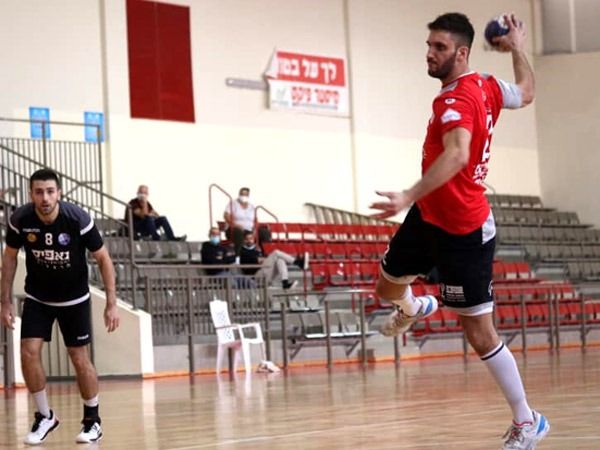 The ninth round of the handball Premier League was held today (Friday). In the spotlight: AS Ramat Hasharon defeated MK Beer Sheva 26:41 and remained perfect with nine victories, Bnei Herzliya saved a surprising 31:31 from Hapoel Ashdod.
Hapoel Ashdod – Bnei Herzliya 31:31
With quite a few mitigating circumstances, which included poor preparation, the appointment of a coaching staff (Oded Ne'eman and Daniel Lindengren) at the last minute, and with a short staff that still lacks the injured Vladice Stojanovic today, the guest completes an excellent season opener.
Today, she was hosted in Ashdod, where Ram Turknitz made his debut (scored 4 goals, 3 of them from 7 meters). Ashdod came after the loss to Hapoel Rishon LeZion last Monday, but were in a good position to win today. Nemanja Goodwick and Tomer Doeg ensured a 27:27 tie. – With conquests by Assaf Ben Gozi and Omar Gera that raised to 28:30.
Liberty (10 goals) shrank, Langhans (7 goals) brought Ashdod closer to victory, but the final belonged to Sagi Bonis, the great goalkeeper of Herzliya, and Sahar Shachak (6 goals) who reduced to 31:30 after a good move by Jordan Lachman, and the Serbian Godwick ( 4 conquests) who scored the equalizer 4 seconds to go. Lachman provided a good performance in Herzliya with 4 goals (squeezed two penalties) and assists. Ashdod and Herzliya are ranked 5-4 with 11 points each.
AK Ness Ziona – Urban Rehovot 31:33
The host came to the meeting after finishing the games against Herzliya and against Holon with a dramatic draw, after returning from a significant lag of 4 and 5 goals in the final minutes. This time, she managed to finish with a victory (first since the fifth round), much thanks to a double stop (including a penalty) by goalkeeper Oren Meirovich in the closing minutes. Shlomi Zeitler (6 goals in total) then scored two penalties and closed out interest, while his brother Erel also stood out and provided important goals from the field (7 in total). Rehovot records an eighth loss, and a very bad season opener.
AS Ramat Hasharon – MK Beer Sheva 26:41
Ramat Hasharon with 100 percent success, and it also did so today in a very convincing way against Be'er Sheva who looked helpless. Ramat Hasharon missed Gil Pomeranz who was revealed earlier this week as positive for Corona, but enjoyed a nice output from Milan Pavlovic who led with 10 goals. Alon Oberman added eight, Yossi Apo four, and the host included many youngsters, including goalkeeper Daniel Peleg from the youth team who provided four stops, Uriel Nachmani and Itai Sheinfeld who scored two goals each.
Maccabi Kiryat Motzkin – Hapoel Rishon LeZion 35:33
Motzkin rested on Monday, and returned with renewed strength in an attempt to surprise Hapoel Rishon LeZion, and almost did so after leading and was in the picture until the last minutes. At the end, Idan Maimon's Reds record their eighth victory. Bosic with 7. In Hapoel Rishon LeZion: Stefan Ilyich scored again in double numbers – 11 goals, Oz Hammi and Delibor Sukic 6 each.
Hapoel Kiryat Ono – Maccabi Tel Aviv 30:29
Ono was the drama queen of the week, with a victory over Rehovot from a goal by Tariq Ksumovich in the closing seconds, and a dramatic equalizer in Be'er Sheva that she absorbed in the final seconds. Today, it happened again, but this time it cost her a loss. Ophir Simon (8 goals) gave Maccabi Tel Aviv a 26:29 advantage. Ono managed to come back from him with goals from Elad Kapon, Nadav Bitton and Philip Irovich who equalized 55 seconds to the end – 29:29. Itai Turknitz during a great squeeze Pendel, and Nir Geva He scored 25 seconds to go, and Kasumovich missed an excellent situation two seconds to go, and Maccabi Tel Aviv achieves its second victory this season. Kiryat Ono is losing ground in the struggle for the upper house.