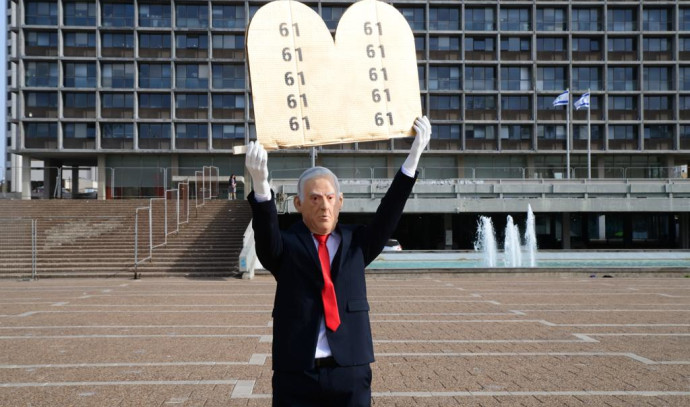 A statue of Prime Minister Benjamin Netanyahu was erected today (Tuesday) in Rabin Square in Tel Aviv. The statue shows Netanyahu holding the Tablets of the Covenant bearing the inscription 61.
As you may recall, this is not the first time that a statue of Netanyahu has been erected. Just last week a protest statue was erected in his image in which he was seen defecating, some of the passers-by in the area were even photographed with the controversial exhibit.
Another protest display was placed in Rabin Square in December 2016 in the form of a gilded statue of Netanyahu four meters high by the artist Itai Zliat, and caused a great commotion.
In April 2019, a ridiculous doll of the Prime Minister was placed in Habima Square in Tel Aviv. A speaker was inserted into the doll, which was wearing a crown, and a number of quotes were heard from Netanyahu, including: "Right-wing rule in danger," and "left-wing media." Passers-by were photographed with Netanyahu's doll, while others photographed it themselves.
About six months later, another provocative display was placed in the square, showing a painting of the Netanyahu couple, with the prime minister holding a severed leg and his wife Sarah making a heart movement in her hands.
In July 2020, an exhibition in the form of the Prime Minister was placed in Rabin Square, in which Netanyahu was seen sitting in front of a table full of food in a manner that simulates the last meal and bites the Israeli flag cake.