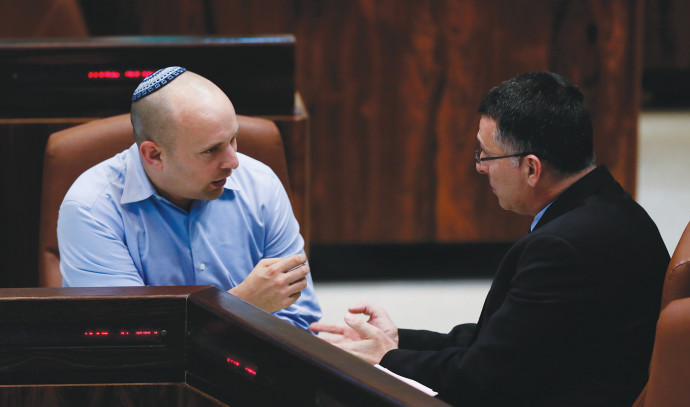 Three days for elections: Naftali Bennett, chairman of the right-wing party, announced in an interview on Channel 12 that "Gideon Saar is a good man, we will certainly be in the coalition together. We will go together and form a right-wing government that will replace Netanyahu. "He said this after a new Tikva chairman, Gideon Saar, was also interviewed and demanded that he pledge not to go with Netanyahu:" My friend Naftali, let us go together for change in the country and not another Netanyahu-led government. ".
Asked about the composition of the coalition that could be formed, and whether he demands the role of prime minister despite being a smaller party than Lapid's, he said that "I am currently running for prime minister, believing I have the ability to unite and connect, which others do not. I believe I can do the most I'm good at this, but I'll say it will definitely be necessary to find an understanding between all the potential partners. "
He denied reports that there were defectors in his party, emphasizing members of the Derech Eretz faction, Zvi Hauser and Yoaz Handel, and clarified that he did not sit with the prime minister: "I trust them one thousand percent. They have an agreement with me, it is nonsense and lies. He would not have announced such a thing, it is Netanyahu's spin, it is about like my conspiracy with the president. "
2021 Election Conference: Who will connect to whom and which government is about to be formed
Afterwards, he suggested that defectors might come from Netanyahu: "If Netanyahu joins the opposition and does not have the coercive force, he will have a hard time keeping the people behind him."
Bennett, on the other hand, despite his remarks, remained silent when asked if he would go with Netanyahu: "I am not close with Netanyahu, I am determined to do everything to replace him," but clarified that "we will not go to election number five. I do not hate or love Bibi, he does not interest me".
At the beginning of his speech, he referred to an incident in which Netanyahu claimed to arrive at his home on Friday morning, but finally did not come: "In the morning, my children ran to my bed and shouted, 'There are skimmers in the air.'" Afterwards, security personnel told me that at 12:30 PM To forward a letter. I replied: 'Bibi, I do not work for you, come to the confrontation.' This gimmick cost tens of thousands of shekels, the police got up because of it at 4 in the morning. "
Yair Lapid, chairman of the Yesh Atid party, added: "Lapid is a good guy, but he is at the head of the center-left bloc. He is against settlement in Judea and Samaria, and when there are 80 seats on the right and 30 on the left, we will form a right-wing government. I will be the responsible adult to bring this thing down. "
Asked why they did not go to the polls together, Saar hinted that the lack of interest came from Bennett and said that "there was no such option." Bennett, on the other hand, declined to comment.