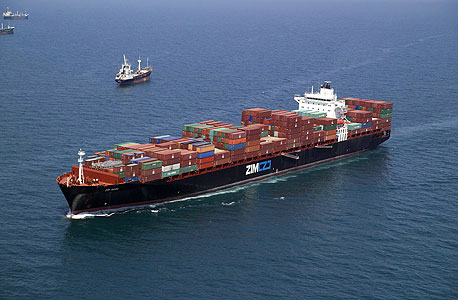 The Corona played in its favor: Zim concludes 2020 with a particularly strong performance – thanks in large part to the Corona virus, which led to an increase in the cost of transporting containers by sea at the expense of flying goods by air, and a drop in fuel prices, which improved the company's profit margin.
Last year, ZIM showed 21% growth in revenue, which totaled $ 3.99 billion compared to revenue of $ 3.3 billion in 2019. The company's gross and operating profit jumped 229% and 372%, respectively. Bottom line, ZIM moved from a $ 13 million loss in 2019 to a net profit of $ 524 million last year.
Idan Ofer, the controlling owner of Zim
Photo: Oz Mualem
Zim's forecast for investors indicates a continued improvement in its business results in 2021 as well. After in 2020 the company introduced EBITDA Of $ 1.035 billion, she expects to record this year EBITDA Of $ 1.6-1.4 billion. ZIM's adjusted operating profit, which stood at $ 729 million in 2020, is expected according to the company's management to move in the current year in the range of $ 1.05-0.85 billion.
In a conversation with Calcalist, Zim CEO Eli Glickman explained the reasons for the optimism of the company's management, which he said is based on a combination of several factors. "The supply of ships in the market is low, and the quantity that exists cannot meet demand," Glickman said. For sea transportation identified in the fleet, especially from the US, is high and is expected to rise. "Last week, full U.S. data was released, and it was low.
Due to the low supply of ships, Americans are unable to fill the warehouses. "Glickman also attaches importance to the" benefits suit, "as he calls the U.S. administration's incentive program, which will flow $ 1.9 trillion into U.S. consumer pockets and increase their demand. In the bottom line, Glickman points to the contracts that Zim has signed with its customers, and says that "the number of contracts we have signed to date is five times greater – and at a price that is at least 50% higher than last year."
ZIM's business results in the corona year make it a non-profit company with a higher net profit than that of all non-profit companies traded in Tel Aviv. Zim's profit, in shekel terms, was NIS 1.7 billion – an amount that places its net profit in third place after the sums presented by the big banks, Leumi and Hapoalim, each of which recorded a net profit in 2020 that crossed the NIS 2 billion threshold.
Just behind Zim is Mizrahi Tefahot Bank, with a net profit of NIS 1.6 billion. Zim completed its share issue at the end of January this year and became a public company, but it is not traded in Tel Aviv – but in New York.
Zim's relationship with the New York Stock Exchange began on the left foot. The offering was priced at $ 15, which was lower than the price range the company was aiming for, $ 19-16 per share. This continued on the first trading day, which ended in a 23% collapse to a price of $ 11.5 per share.
However, from the second day of trading in the stock began a honeymoon, which continues to this day. In less than two months, Zim's share jumped 88% compared to the issue price and reached a price of $ 28.25. Zim's current market capitalization is $ 3.2 billion compared to $ 1.7 billion (after cash) at the time of issue.
"Every company wants to issue at the highest possible price, and we issued at the highest possible price at the time of the IPO. That day the stock markets fell sharply, and the shares of the maritime transport companies plummeted," Glickman explained. "The momentum was negative, but in life you sometimes have to compromise to survive." Despite the jump in Zim's market value from the IPO, Glickman is optimistic about Zim's pricing relative to competitors and says: "A comparison between Zim and the competing companies will show that its value is relatively low.