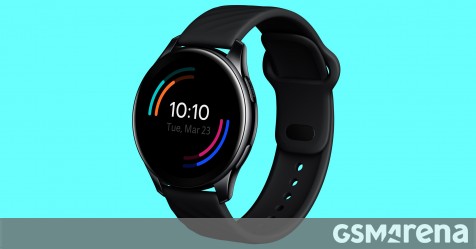 OnePlus has always had extensive teaser campaigns to launch the upcoming products, but it has certainly faded this time around, in preparation for its big release event on March 23rd for the OnePlus 9 series and the OnePlus Watch.
Speaking of the company's first smartwatch, here it is in all its glory in a "spread image" echoed by OnePlus itself. So it's more like an official teaser than anything else.
As is understood by the previous teaser, the wearable has a round face and a fully controlled eye, with a band that should be easily replaced with a standard 20mm or 22mm band (we are not sure about the size but it should be one of those).
It is not clear how big the bezels will be, as the image shows a black background on the screen. There are two buttons on the right side as you can see, and what looks like a display function is always at work. That's about what the image reveals, and we also know from previous OnePlus teasers that a proprietary software platform will be used, not Google Wear OS.
The OnePlus Watch will have IP68 water and dust, and according to rumors will be offered in black and silver, and sports a SpO2 sensor, work detection, sleep detection, and 4GB of integrated storage.