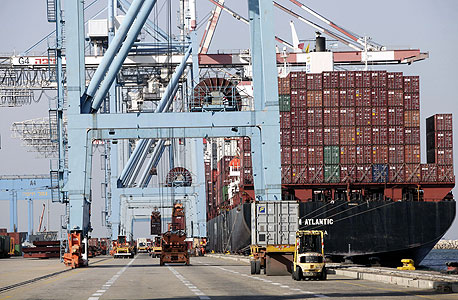 The dispute between Dudi Amsalem, the digital minister in charge of the Government Companies Authority, and Attorney General Avichai Mandelblit, is causing delays in the tender for the privatization of the port of Haifa. This is because no one will head the government privatization committee, and this committee is the only body authorized to approve any move related to the tender.

Until recently, the committee was chaired by Yaakov (Yankee) Quint, in his previous position as director of the Government Companies Authority. At the end of 2020, however, Quint moved to serve as director of the Israel Land Authority (RMI), and the committee does not currently have a chairman, so no decisions can be made.

For example, in order to enter the information room, the candidate must obtain the committee's approval, deposit a NIS 5 million guarantee and only then is its entry approved. So far, Israeli shipyards have entered the situation room together with DP WORLD from Dubai and the Shafir Group.

The transport companies, Clal Industries and Leumi Partners initially approached the tender separately, but now they are interested in approaching as one group. For this purpose, approval of the committee is required, and as long as there is no approval – entry to the information room is not allowed.

Port of Haifa

Photo: Ariel Verhaftig

Meanwhile, one of the strongest groups in the bid has already announced its retirement: the group that included the terminals giant Euroports, which is a member of the Shemen Group in Israel, and Maagan, has decided to withdraw from the tender. Last week, the Shemen Group published a report in which it stated that the party leading the group had decided to retire, among other things, due to the complexity involved in acquiring the Haifa Port Company, which raises doubts about the feasibility of the entire project. In light of this announcement, Shemen Industries also decided to retire and announced this to the Government Companies Authority.

In an attempt to find a solution to the situation, Amsalem suggested to the Ministry of Justice that Roi Kahlon, deputy director of the Government Companies Authority and the person in charge of seaports, serve as the committee's deputy chairman, so that the tender can continue. As far as is known, the Ministry of Justice is still examining the appeal.

Delays in the tender for the privatization of Haifa Port may create an advantage for the Gulf Port, which is currently being built by the Chinese company SIPG. It is highly doubtful that it will be able to open privately owned before the Gulf port, easy and material, considering that several months of adaptation work will be required to bring modern equipment into the old port.