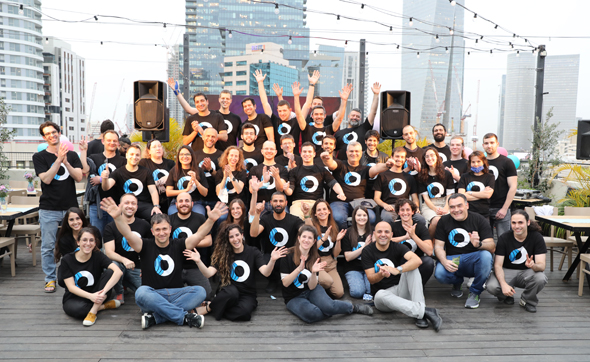 The Israeli cyber company Orca Security, which is developing a cloud security solution, announced today (Tuesday) that it has raised $ 210 million, in Round C, at a value of $ 1.2 billion.
The round was led by the CapitalG Fund of Alphabet Corporation and the Redpoint Ventures Fund. They were joined by existing investors GGV Capital, which is investing in the company for the third time, ICONIQ Growth and Silicon Valley CISO Investments, a group of angels made up of 50 leading information security executives in the US who invest their personal capital. Secondary shares).
Since its inception about two years ago, Orca has raised a total of $ 300 million. The last round of raising $ 55 million was made in December 2020. In the past, the venture capital fund YL Ventures, which led the lime round, invested in the company and supported the company in further investments.
"We had a great year far beyond what we thought," Avi Shua, Orca's CEO and co-founder of the company, told Calcalist. return".
The company said that in 2020 it achieved growth of more than 1,000% and recruited many strategic clients, including Robinhood, Databricks, Unity, Live Oak Bank, Lemonade, BeyondTrust, among and many more.
"We have dozens of public customers recommending the product. That's a huge number relative to the time we exist and that's why it's so important for us to grow now," Shua noted.
Should not be supported by agents
Orca's technology is unique in that it does not have to rely on software agents (agents) that in the vast majority of cases are not properly implemented in organizations. The system achieves full and fast coverage in minutes, because no code works in the organization's cloud environment, unlike other solutions on the market that achieve coverage within a few weeks. In addition, the system does not generate workloads as it is able to prioritize and filter through thousands of different security alerts, revealing their criticalities, while providing insights into care.
Why embark on such a big round of recruitment just a little after your previous round?
Shua: "It's always terribly easy to quantify, but when I look at what percentage of customers in the market we have access to, it's a fraction of a percent of the potential and the way to become the largest cloud security company is to be outdoors and it's something expensive that requires capital.
"The cloud computing market today is $ 100 billion a year and it is estimated that it will reach a trillion in about 8 years. Traditionally 7-8% of all spending in the field goes to security and the numbers are only rising. This means a market of $ 50-70 billion in the coming years and it is the largest security market "Customers choose us as their main solution, so it's time to hit the iron as hard as possible."
Orca Security employees
Photo: Orca Security
Shua adds that Orca has increased its workforce fivefold in a one-year period: "It is not right to make a significant acceleration without full tanks, our goal is to be the largest cyber company in the field."
The acceleration in the cloud security market is also very noticeable in Israeli high-tech and some of the significant recruitments in recent weeks are among companies operating in the field, such as Wiz for example, so you have quite a bit of competition.
According to the CEO "In a market of this size it is clear that there will be competition. Palo Alto, for example, tried to threaten us through lawyers so that we would not publish comparisons to them and they went back to them and started referring to our technology.
"One of the things that sets us apart from the competition is the ability we developed to perform a scan that is like an MRI to the cloud. Unlike other companies that try to solve a security problem for the company, our solutions only work in the cloud understanding that the cloud is important enough to justify its own solutions. Our technology is that our solution works: it means it covers the whole environment, alerts you to all significant things and is not buried among millions of other alerts.All other solutions on the market do not do this, or they require implementation that takes many months.We know how to prioritize what matters To the customer.
Right: CEO Avi Shua and Gil Gron, CPO
Photo: Orca Security Ltd.
"Ultimately it's a huge market, it doesn't make sense to have just one company. In the cloud world there is a cultural change that is no less significant than technological change, organizations expect their development teams to come out much faster. We moved from a year and a half to several. Weeks, and traditional security does not allow an organization to meet its business goals, "Shua said.
"Do not look at the exit"
Orca was founded in 2019 by eight founders, including Avi Shua (CEO) and Gil Gron (CPO). The company has offices in Israel, Los Angeles, London, Vienna and more, but most of the development is in Israel.
"We're really not looking at the exit," Shua said. 'We've all been in significant positions in the past, and we're trying to establish a significant company that will be here to stay. From the side
The Israeli is the right thing for the country. "I'm sorry that start-ups are focusing on building a company that can be sold, it has a place, but there is also a place in Israel for large companies and the cyber field is one of the largest in the world.
Shua notes that Orca intends to continue to direct most of its development activities to Israel: "There is an incredible concentration of knowledge here in the field and to start checking where there are cheaper programmers is a very micro and not a macro look."
Can it not be avoided that the chain of recent recruitments in the field is leading to very tough competition for cyber programmers?
"There is nothing wrong with the competition, every required professional has competition and Silicon Valley also has competition for good programmers. The circle of recruits needs to be expanded. There is a lot of wisdom in 8200 but there are many smart people who do not leave the unit and we have many more who do not fall. "It's a narrow look that does not give an opportunity to no less good people, what's more you let someone else do the sorting for you."