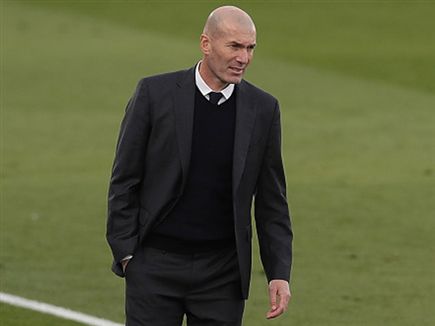 Real Madrid put together a third consecutive victory in the league tonight (Sunday) with a light 0: 2 over Valencia, but alongside the celebration there was also a less pleasant event – the additional injury of Daniel Carvajal. As a result, he may be absent from next week's Champions League quarter-final game against Atlanta, and the defender is reportedly suffering from a thigh muscle injury at the same spot that has plagued him in recent weeks. In any case, the duration of his absence is still unclear when the Spaniard will undergo further tests tomorrow that will illuminate the situation.
After the final whistle the Blancos coach, Zindin Zidane, Referred to the unfinished situation of the wounded in his group. "I do not understand the injuries with us and I can not explain it, we suffer from it too much," said the desperate coach. "I'm worried, when we lose a player it bothers me. It hurts me about Carvajal because he played well and he is a very important player for us. I hope his injury is not serious, we will only know his condition tomorrow."
The Frenchman also talked about his team's championship ambitions despite the gap from Atletico Madrid. "We will continue on our way and we are not currently looking at other teams. I am very pleased with the players and we are in a good time," Zidane complimented.
Now, let's address the two stars of victory – Tony Cross And Kerim Benzema, and let's start with the German. The midfielder, who has been in exceptional shape for the past few weeks, has returned from suspension and has done whatever he pleases and also finished off with a gate and cooking. After the final whistle Cross spoke about why he did not score too much for the Blancos: "I am a fan of scoring goals but most of the time I have to do other tasks for the team."
The ability of the midfielder has not disappeared from the statistics either when in his last four games in the league he contributed four goals and a goal, alongside 17 situations he created. Meanwhile, he also provided 420 touchdowns in the same period of time when 95% of his dedications were accurate.
And what about the striker? Provided a great game, and he too reached some impressive milestones tonight. The striker has scored his 33rd league goal against Valencia in the last two seasons, with only Leo Messi (40) doing more than him. Following this, he rose to fourth place in the Pichichi table and to his credit 12 goals – 4 less than Luis Suarez.
Toni Kroos' game by numbers vs. Valencia:

115 total touches
107 passes attempted
101 passes completed
13 long passes attempted
12 long passes completed
4 chances created
2 shots
1 assist
1 goal

Maestro. pic.twitter.com/zmq2W08YlN

– Statman Dave (@StatmanDave) February 14, 2021
In his last four games, Toni Kroos has had 420 touches on the ball, completed 344/361 passes (95%) but still created 17 chances with four assists. He's also completed 45/50 long balls (90%) on top. This is all from the centre of midfield!

He's on a different level. pic.twitter.com/9reMv4xeGZ

— UtdArena (@utdarena) February 14, 2021
Toni Kroos has assisted four goals in his last four La Liga games.

All four assists have been for different players (Casemiro, Hazard, Asensio and Benzema). pic.twitter.com/HDMCVNlPnI

— Squawka Football (@Squawka) February 14, 2021
Karim Benzema has now scored 33 La Liga goals since the start of last season.

Only Lionel Messi (40) has scored more in that time. pic.twitter.com/qbGCGahGSm

— Squawka Football (@Squawka) February 14, 2021
Toni Kroos' performance today. Discuss.#RealMadridValencia pic.twitter.com/UIUYdNfXBp

— LaLiga English (@LaLigaEN) February 14, 2021
| Dani Carvajal has a muscle injury in his right thigh. @La_SER #rmalive

— Madrid Zone (@theMadridZone) February 14, 2021