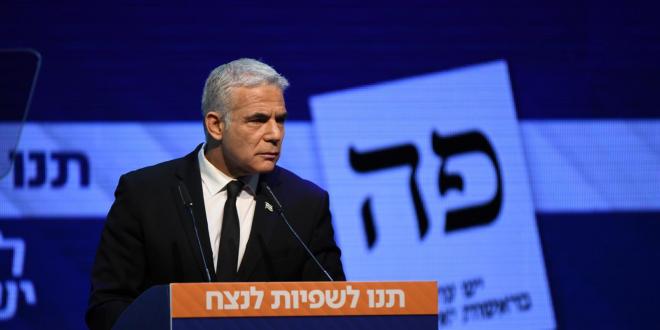 Opposition leader and chairman Yesh Atid, Yair Lapid, calls on Prime Minister Benjamin Netanyahu to arrive tonight (Saturday) for a confrontation with him, a few days before the election.
Lapid noted that "the Israeli public deserves a confrontation. He deserves answers. He needs to know what government you are trying to form here. The studios are ready, the interviewers are ready, there are two podiums waiting. For many months you put me on billboards, made speeches about me, made videos against me. Let's see if you meant it. Let's see if you really want a confrontation, or you're running away. Let's see if Bibi escapes. "
Lapid added that "a confrontation will put on the table what is really at stake. The public deserves to know what a frightening government Netanyahu is trying to form here. Litzman and Smutrich, Deri and Ben Gvir, a dark, racist, extortionate and chauvinistic government that will flee an entire generation and bury Israeli democracy. With this composition, Israel will be a much more religious, much poorer, democracy-minus state. This will no longer be the country of people who work, serve in the military, pay taxes. They will have a government that hates them and in that their values. The results will be terrible. "
"Come to the confrontation Bibi. I'm not going to sit in the studios as your warm-up band. You said I was your opponent, facing the opponent. The question "Where is the torch?" here I am. Come stand in front of me for tonight's confrontation. " Said Lapid.