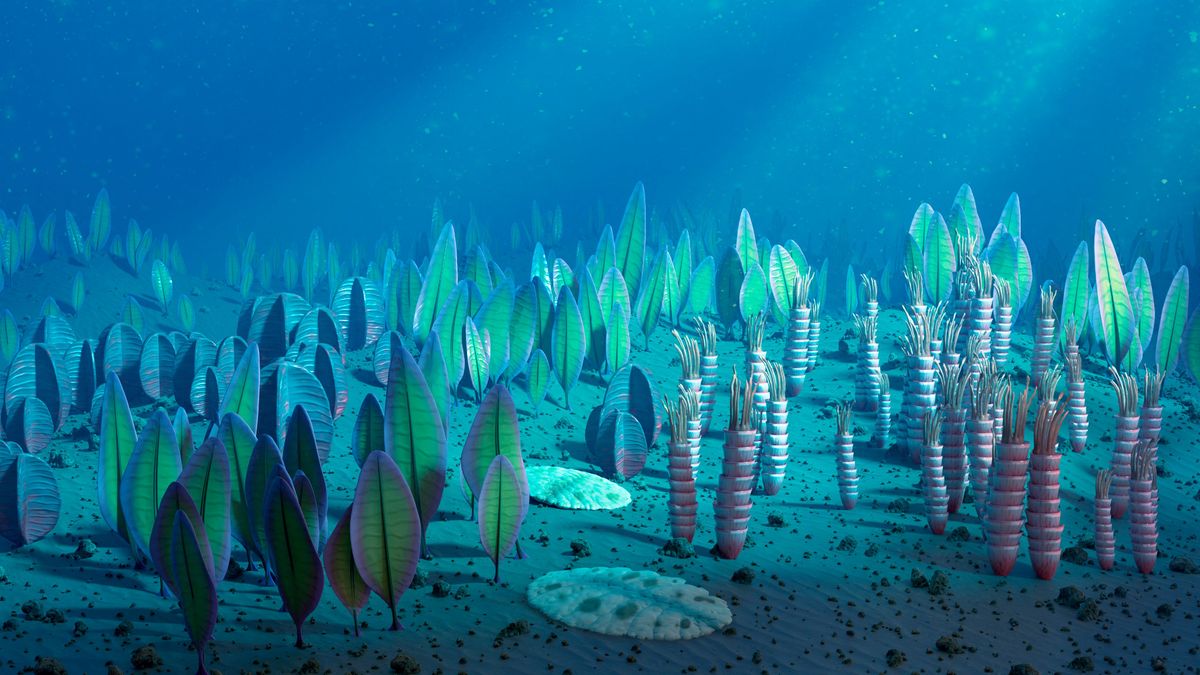 More than half a billion years ago, leafless sea creatures resembling leaves, teardrops and rope cocks crossed the pristine oceans.
While these primate animals looked nothing like us, 555-million-year-old memories are perhaps some of our most important genes, according to a new study.
Find that study Landthe earliest and most primitive animals may have had genes that code for the balance of bodily, sensory organs and immune systems that is still around today.
Related: Photos: Strange, primitive sea creatures took control of Ediacaran's time
Strange creatures
Animals from the time of Ediacaran were the inhabitants of a flat ocean, which fed at the bottom, which scoured the seabed. They were really other worldly in appearance; some, like motion-shaped domains, looked so like leaves that scientists debated for decades whether the creatures were, in fact, animals, Live science previously reported.
"These animals are very strange, and they don't look like what we think animals should expect," said study lead author Scott Evans, a postdoctoral researcher at Virginia Tech, to Live Science.
Most of these Ediacaran beasts would have been simple, perhaps a step or two more advanced than sponges in that they had nerves and nerves. But in their time, they represented a huge leap in evolution. Animals from this period were the first heterogeneous animals, making them the distant ancestors of all modern animals.
The strangeness and lack of special features has made it difficult for scientists to determine the condition of the creatures on the tree of life. So, for the new study, Evans and his co-authors – Mary Droser, professor of geology at the University of California, Riverside, and Douglas Erwin, a research biologist at the National Museum of Natural History in Washington DC – study of fossils from four genes representing a diversity of more than 40 known Ediacaran species from fossil sites in the Australian Outback.
Their goal was to identify advertisements about how these private animals were related and what species came after them.
The four types of creatures they looked at were: the veiny shape, the oval shape Dickinsonia; the teardrop shape Kimberella; the shape is completely immobile, pinwheel Tribrachidium; and Ikaria, Evans' own worm genus helped find.
These four ambassadors from the time of Ediacaran showed that these animals are not so different from modern animals as were once believed. Despite the lack of heads and legs, the animals still had some of the basic features that still exist today. For example, three of the four were symmetrical from left to right and had separate groups.
Although it is not possible to directly study the genetic make-up of these creatures, the presence of developmental traits, e.g. symmetry and body rotation, indicating that many of the most important genes in modern animals – key regulators known as high-level regulatory genes – were present in these ancient animals.
"Developmental biologists have found that everything with a front and back, or left and right, uses the same genetic elements to establish front and back or left and right," he said. Evans. "We can use that fact to say that if these Ediacaran animals have the same traits, they seem to be controlled by the same genes."
Genetic scaffolding
Regulatory genes tell other genes what to do. So while a modern animal has genes that encode for eyes, there is also a set of regulatory genes that tell the body where those eyes are going. Regulatory genes determine which body parts are the heads and which are the legs. Dickinsonia's symmetrical body with elevated ridges extending out from the midline suggests that the genetic scaffolding for a complex body was already in place, even if all of these body parts were functional.
This is the same genetic scaffolding found in all animals with symmetrical bodies today.
"The fact that we can say that these genes worked in something that has been extinct for half a billion years is interesting to me," Evans said in a statement.
The study, published Feb. 24 in the journal Proceedings of the Royal Society B, does not stop with regulatory genes. The researchers hypothesized that many of the genes responsible for more complex signals, such as nerves and muscles, appeared to be hidden within the genomes of Ediacaran animals, as well.
Fossil evidence indicates that many of these animals actively sought food rather than passively ingesting it from the environment. That indirectly suggests that they carried genes that could build basic nervous systems and sensory organs that allowed them to find and collect food from the seabed.
And some fossils of Dickinsonia carry scratches. This shows that these animals were able to repair their own damaged tissues through a programmed cell death process – again, all of the functions controlled by genes that are an essential part of an animal's immune system.
First published on Living Science.