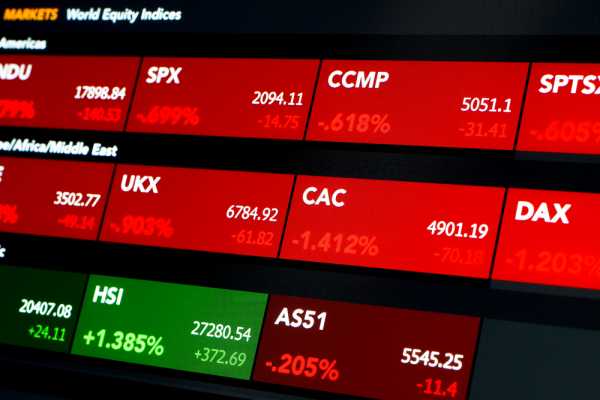 The Majesties
It was a bearish start to the week for the European majors on Monday. The EuroStoxx600 fell 0.4%, with the CAC40 and DAX30 seeing losses of 0.11% and 0.31% respectively.
Positive economic data from Germany failed to reverse the loss for the DAX30 on the day. Rising market pressures on inflationary pressures put pressure on the majors early in the European session.
Late in the European session, however, ECB President Lagarde eased market tensions. The President of the ECB said that the ECB was monitoring rising borrowing costs. For the European majors, the ideas were enough to support the recovery of part of the day's loss.
The Stats
Monday was a very quiet day on the economic calendar. The focus was on the German Ifo Industrial Climate Index and sub-table figures.
In February, the German IFO Business Index rose from 90.3 to 92.4. Economists had forecast a rise to 90.5.
The development of both current ideas and business expectations supported construction in the Business Climate Index.
The business expectation sub-index rose from 91.5 to 94.2, with the current appraisal sub-index rising from 89.2 to 90.6. The duo came in ahead of predictions.
According to a February survey,
In manufacturing, the index jumped to its highest level since Nov-2018. The Business Climate Index rose across all major branches of industry.
There was also a build in the service sector's Business Climate Index. Companies in the service sector were more satisfied with their current situation and less optimistic about the future.
From the USA
It was a very quiet day in terms of economic data, with no substantive stats for the markets to consider.
Market movers
For the DAX: Monday was another mixed day for the car department. Volkswagen and Continent rose 0.99% and 1.59% respectively, while BMW and Daimler fell 0.53% and 0.40% respectively.
It was also a mixed day for the banks. Deutsche Bank rallied by 2.85%, though Commerzbank fell 1.13%.
From the CAC, it was a bullish day for the banks. BNP Paribas and Soc Gen rose 2.02% and 1.74% respectively, by Agricole credit winning by 1.15%.
It was a bearish day for the French car sector, however. Stellantis NV fell 1.35%, with Renault slipping 3.02%.
Air France-KLM and Airbus SE the day ended with gains of 1.32% and 4.39% respectively.
On Index VIX
He was back in the green for the VIX Monday, marking 4thth daily gain in 5 sessions. Going back to a 1.96% decline from Friday, the VIX rose 6.35% to end the day at 23.45.
The Dow rose by 0.09%, while the NASDAQ and S&P500 fell 2.46% and 0.77% respectively.