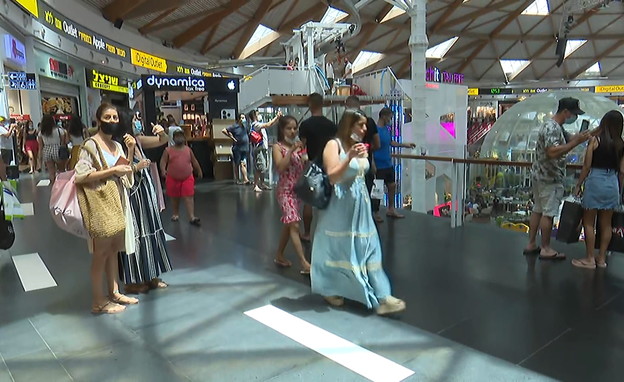 Election Day has long since become a shopping day, and the chains are behaving accordingly and offering special promotions for the Sabbath day. So what promotions can you enjoy today and where? We have compiled the details for you.
Malls
North Gate Mall, Kiryat Ata: A voucher of NIS 50 to be redeemed at the Fox Group chain of stores (Pot Locker, Mango, Lalin, American Eagle, Aerie, Children's Place, Fox Clothing, Fox Home, Yanga) for every purchase of NIS 299. Dates: March 21-26.
The Seven Stars Mall: Voucher for a total of NIS 75 for purchases in all the mall stores, for one purchase or a cumulative daily of NIS 500. Dates: March 21-26.
Ofer Malls Group: Gifts for NIS 20 of a variety of household products, fashion, cosmetics, accessories and more.
Dizengoff center: Each buyer for NIS 300 will receive a token for a machine with an arm for retrieving gifts, and each customer will receive a gift. Among the gifts: iPhone 12, quality speakers, bedding set, pots and thousands of other gifts with a total value of NIS 400,000.
Fashion
Puma flagship stores: A day without VAT
Tommy Hilfiger flagship stores: A day without VAT
Adika: 30% discount on the entire site – fashion, footwear, accessories and the home design collection. Excluding brands.
Michael Kors The flagship store: A day without VAT on the summer collection.
Factory 54 stores: A day without VAT on the summer collection of selected brands.
Nine West shoes and the Shop chain: Purchase from the new collection for NIS 500 and pay only NIS 350.
Lee Cooper Network: Jeans for women and men for NIS 149.
Nautical: 50% on the first item, 60% on the second and 70% on the third. On the winter collection.
Timberland:50% on the first item, 60% on the second. On the winter collection.
Emanuel: 20% discount on the entire summer collection and NIS 100 as a gift for purchases over NIS 2,000 for the next purchase.
Fox Group: Sale for DREAM CARD and VIP DREAMCARD members – 2 times the accumulation of points for every purchase in the DREAM CARD club brands, including trade sites. DREAM CARD Club members – earn 20% CASH BACK points. DREAMCARD VIP Club members earn 24% CASH BACK points
Accessories and cosmetics
Magnolia: Third jewel as a gift.
Pandora Jewelry: 20% discount on all jewelry for purchases over NIS 499.
IL MAKIAGE: 30% discount on all products + a new luxury velvet bag as a gift for every purchase over NIS 199.
Electrical and communication products
Pelephone network: Up to 25% discount on selected models from Samsung and Huawei and gifts on every purchase of a device from the sale in Pelephone stores around the country and on the website. In addition, a 15% discount on the purchase of accessories on the website. Dates: March 23 until the end of Passover.
Electrical Warehouses: Each purchase of a product will receive a purchase voucher of up to NIS 1,000 at the Vardinon and Naaman chains.
TEKA electricity brand: When you buy a hybrid stove, 90 cm, which combines induction cooking stations and an open fire station, you get a cordless vacuum cleaner from the German electric brand Fakir worth NIS 1,200 as a gift. Dates: March 18-26.
Home design and furniture
Simmons sleeping brand: 25% discount on all mattresses. A pair of "Beauty Rest" pillows worth NIS 800 as a gift when purchasing a mattress, and up to a 50% discount on guest sofas, youth beds and beds and a half. Dates: March 23-24. In the branches of the Night Sleep chain and in the Simmons Gallery stores.
IDdesign Network: 30% discount on all products in all departments.
URBAN network: Free transportation and assembly for purchases over NIS 2,000.
Various
Bit app: 15% refund on transactions made in Tap on election day only. Refund up to NIS 150 per customer, for the first 3,000 customers. Subject to the terms of use for Android owners and support cards.
ricochet: Buy for NIS 300 and pay 200. For the entire store.
Combined: A gift for all babies born on Election Day 23.3.21 – 'Leadership Package and Leaders of Tomorrow', decorated with lion and lion cub cubs and includes, NB leotard, sleeping bag, Tetra diapers, and a game from the TINY LOVE brand. The package will be available until 15.4.21.
Wine chain in the city: Buy for NIS 150 from Israeli wineries and receive the aperitif as a gift from the chain.
Bana Beverages chain: A variety of exclusive promotions on wines and alcoholic beverages in chain stores and home delivery. In addition, up to 30% off a variety of products.
Gentleman Network: Dozens of chain items at discounts of between 40% -50%. Dates: March 21-26.