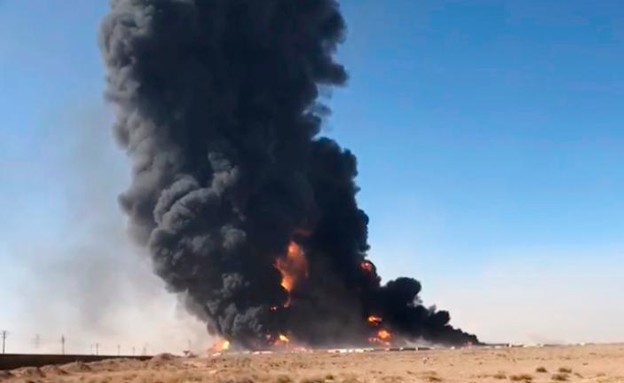 The big fire that broke out last night on the Iran-Afghanistan border caused enormous damage estimated at tens of millions of dollars • The cause of the fire is a huge fuel tank explosion, which reportedly ignited hundreds of vehicles and injured dozens of people • As part of trying to eradicate the flames, Afghanistan had to cut off electricity To many parts of her country and thus left many citizens in complete darkness
N12










| Posted 14/02/21 07:01

A huge fire broke out yesterday at the Islam Kala crossing on the border between Iran and Afghanistan as a result of the explosion of a huge fuel tanker. Afghan media report that about 60 people were injured during the blast, emphasizing that the blast caused a huge fire that required the country to equip another 500 trucks of natural gas and fuel.
For more updates and to send your stories – visit the news Facebook page
The main tanker explosion occurred around one o'clock in the afternoon in Afghanistan time, and after about half an hour there was a secondary explosion. The head of the Harat province's Chamber of Commerce and Industry, Afghanistan, Yunus Kizizada, told Reuters that fire damage was estimated at millions of dollars. "Preliminary investigations indicate that so far more than $ 50 million in damage has been caused by the fire," he said.
Video of the massive fuel tanker explosion today on the #Iran–#Afghanistan border. pic.twitter.com/1iMo4taaF7

– Jason Brodsky (@JasonMBrodsky) February 13, 2021
On the other hand, sources in Harat claimed that they could not confirm with certainty the reports in the Afghan and Iranian media that up to 500 fuel tanks had already been burned that the fire had spread to the Iranian customs post on the other side of the border.
The fire continued into the night and forced Afghanistan to shut down the power supply that came from Iran thus leaving many parts of the country in complete darkness. Wahidallah Tohidi, a spokesman for the Ministry of Electricity, later stressed that the fire had been brought under control and the power supply was expected to return soon.
A major blaze broke out when several oil tankers caught fire after one exploded at the Islam Qala port, which connects Afghanistan to Iran. Ten people were injured, according to Afghan officials pic.twitter.com/b3u2zSyo4w

– TRT World (@trtworld) February 13, 2021
We emphasize that the US allows Afghanistan to import fuel and oil from Iran as part of a special agreement signed with Kabul as part of US sanctions on Iran. We will emphasize that the road between the city of Harat and Islam Kala, where the explosion took place, is a major highway section known at night as a hotbed of crime and assault by gangs.
The Afghan security services joined the fire brigade that was called to the scene, set up checkpoints and helped ambulances and emergency vehicles cross the border safely in order to eradicate the flames. Thus, in addition to the fire, the satellite photos show dozens of fire trucks and medical crews crossing the border.