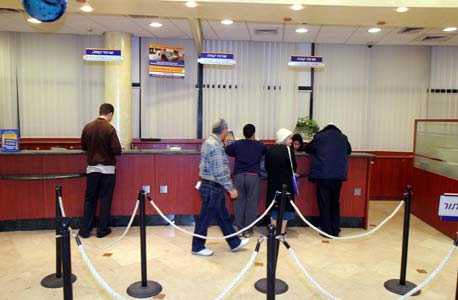 In recent years, steps have been taken by the Bank of Israel to reduce the payment of current fees at banks. One of the significant steps was the move to current fees tracks, which banks were forced to offer their customers, with the basic track price being NIS 10 per month.
Seven years after the tracks entered into force, and although joining them can often reduce the monthly payment, the Bank of Israel announces today that 26% of the banks' customers, to whom this is relevant, have not yet joined the tracks.
Illustration. Do not try to lower fees
Photo: Gadi Kabalo
The data from the Supervisor of Banks published as part of the semi-annual fee report show that 61% of all accounts pay current fees of less than NIS 10 on average per month, ie lower than the basic route price, 13% of the accounts are already attached to the route service. That they are 1.9 million accounts have not yet joined, and the Bank of Israel politely states that: "It is proposed to consider joining the service."
The report also shows that the corona crisis has led to a decrease in current fees and credit card fees. In the first half of 2020, the average cost of managing a current account and holding credit cards averaged NIS 24.5 per month for a bank account, a decrease of 9% compared to the average cost in 2019.
"The decline is largely due to the Corona virus crisis that plagued the economy during this period and led to a significant change in the public life routine and does not reflect a normal course of business. This period was characterized by high uncertainty which affected the public's banking activity," the report said. At the Bank of Israel.
The cost of current fees amounted to NIS 11.6 per month, a decrease of 6% compared to 2019, and the cost of credit cards amounted to NIS 12.9 per month, a decrease of 11%. The decrease was due to a decrease in income from transaction fees and withdrawals due to the crisis. . On the other hand, there was an increase in the card fees charged – the average ticket fee was NIS 7.1 per card, for one month, compared with NIS 6.5 in 2019. The increase is due to an increase in the number of credit cards, which is growing. The average number of tickets per account has jumped 38% since 2011, and now stands at 1.63 tickets per account compared to 1.18 tickets ten years ago.
Along with these declines, the Bank of Israel notes that there was an increase in the payment of securities commissions in the first half of 2020. The increase is not due to higher prices – these remained similar to prices in 2019. The increase is due to an increase in trading activity due to fears of crisis and uncertainty. "According to the Bank of Israel.